Val di Sole bike lane
Families with kids? MTB enthusiasts and bike tours? Val di Sole is the right place for you!
In recent years, also known as Val di Sole Bikeland, Val di Sole is the ideal place both for those who already know and practice this discipline, and for those who want to get closer to it!
Let's discover the Val di Sole cycle lane together.
ITINERARY
The Val di Sole Cycle Lane runs along a 35 km route along the Noce river and the villages of Val di Sole.
From Mostizzolo it will take you to Cogolo di Pejo, at the entrance of the Stelvio National Park, covering a positive difference in altitude of about 700 metres.
It's suitable for everyone, everyone!
In fact, it is entirely asphalted and both racing bikes and MTBs can ride it, suitable for those who want to train but also for families with children.
WHAT TO SEE?
Along the cycle lane you will notice different landscapes and panoramas, starting from the apple orchards that you will find in the lower Val di Sole to the imposing peaks that you will find going uphill.
You will see green meadows in bloom, the Noce torrent and the small villages of the valley along the cycle lane.
My advice is to see beyond and take a break, leaving the bike lane to admire the places of interest in the small villages of the valley.
Stop and visit Castel Caldes, in the village of the same name, only 5 km from the start of Mostizzolo.
Continue to Croviana, another small village in the Val di Sole, where you will find the very interesting MMape, the Bee Museum, which will amaze both young and old. . .
Surely, go and visit Castel San Michele, in the small village of Ossana, 2 km from our Hotel.
Always remember to bring your Val di Sole Guest Card with you to get in for free!
DOLOMITI EXPRESS and BICI BUS TRAIN
My advice, especially for those who are not very well trained and for families with children, is to start from our Hotel and go down to Mostizzolo along the Val di Sole Cycle Track and from there return with the comfortable (and free) Dolomiti Express, the little train that takes you to Mezzana, from there you return with your bikes!
Alternatively, you can go up towards Cogolo di Pejo and return with the various Bike Buses that you find in Val di Sole!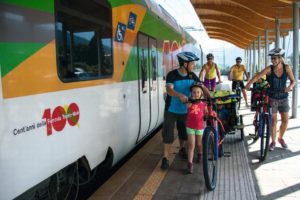 MTB and E-BIKE RENTALS in VAL di SOLE
If you don't want to take your bike from home for space and comfort reasons, I understand you very well!
Don't get discouraged, in Val di Sole you will find several MTB rentals.
The closest near Hotel Pezzotti is Vegher Sport, which is just 1 minute away from us!
If you want to go without too much effort, I recommend you to rent the E-BIKE.